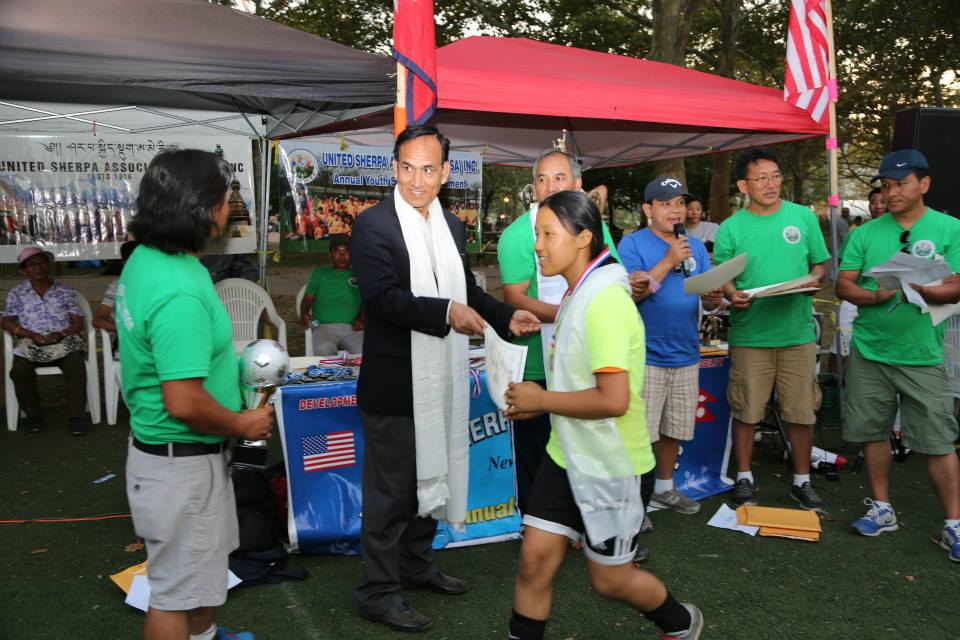 United Sherpa Association Inc. (Sherpa Kyidug) has been organizing various sport events for youths since 1998. The main objective of the events is to encourage the youths in various sports and give a platform to boost their abilities. The other objectives of the events are to motivate and participate the younger generation in community activities enhancing their mutual cooperation and understanding within the community and other communities; aware both parents and children about healthy living; and to transmit the cultural heritage based norms and values to the younger generation involving them in community activities. The sports event is organized usually during Labor Day weekend in summer. The association has been organizing tournaments among children twice a year. The association is planning to encourage the players to participate in various tournaments organized by different clubs. The greater goal of the sports event is to contribute in producing national and international level players in various sports.
The annual sports event organized by the association in 2015 was a historic and mega event among the Nepalese communities in New York. More than 600 players participated in various tournaments. 13 teams competed for Volleyball; 16 teams played Soccer; and 8 teams were selected for Basketball. Interestingly, there were 10 teams of children below age 14 took part in the tournament. Teams and clubs from Ohio, Texas, Colorado, New Jersey, Connecticut, Maryland, and New York took part in the event. All the players and instructors were awarded certificates and medals at the end of the event.
More than 600 people including guests, parents, and other spectators have participated the final event. Mr. Rinji Sherpa (Khambache) has played significant role to organize the event as a coordinator for Youth and Sports on behalf of the current executive committee (2015/2016) of the association. Similarly, sports trainer cum volunteers Mr. Tshering Namgel Sherpa and Mr. Sangbu Sherpa have contributed tremendous time and effort to make this event a grant success.